VT132

Designed for RC2014
Overview
I first tweeted about the VT132 in March 2019 I had put together a first prototype in time for mVCF - Melbourne (AUS)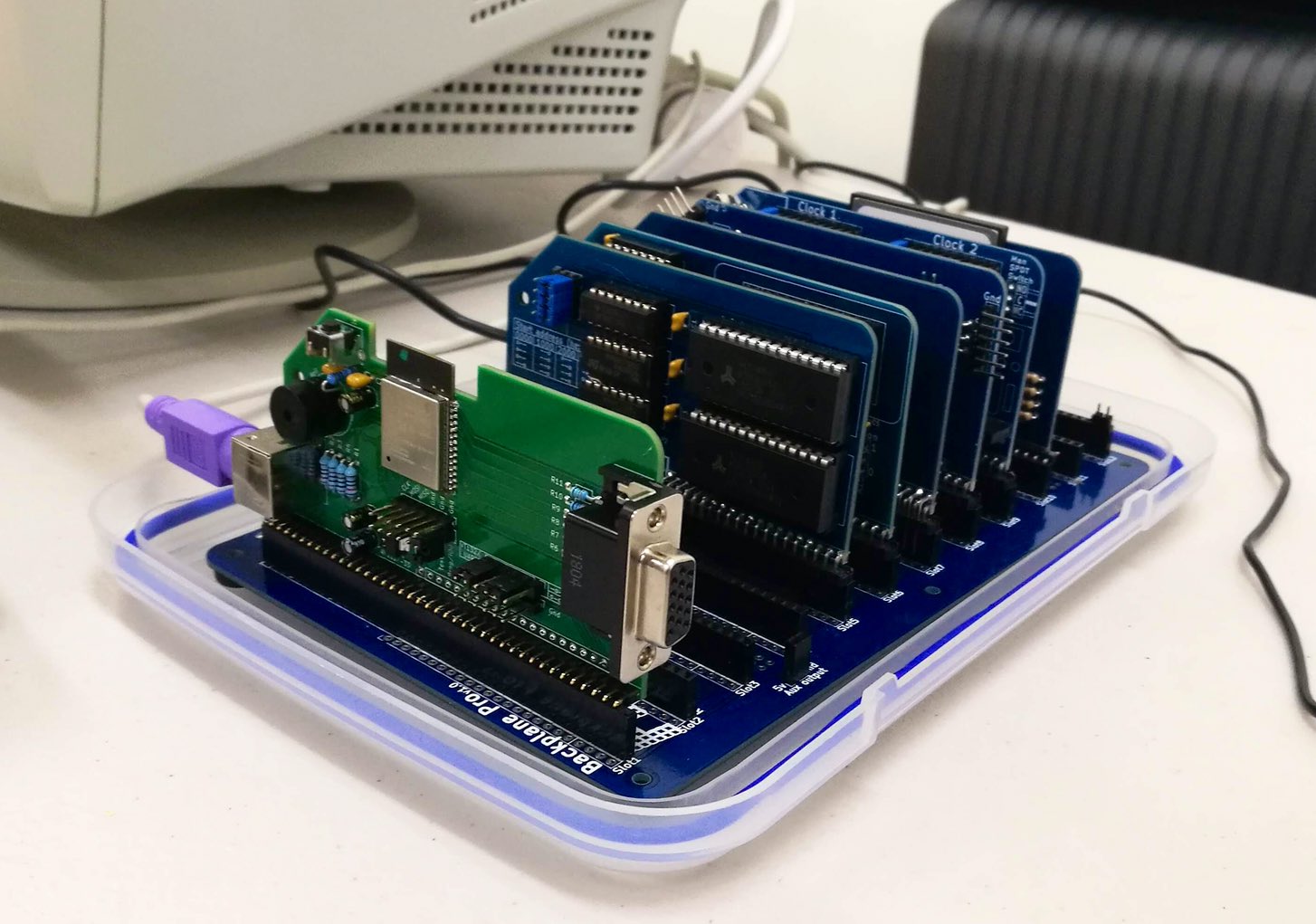 Back then it was simply the hardware implementation of the brilliant work done by Fabrizio Di Vittorio in creating the FabGL library for the ESP32. An ANSI/VT compatible, serially connected terminal with VGA output and a PS/2 keyboard.
But I wanted to extend his work and make a very authentic implementation of the DEC VT100 down to every reasonable detail.
Clearly from the prototype I'd already chosen the form-factor to be a "Designed for RC2014" expansion card for the RC2014 bus.
I then took a break from the VT132 while I worked to finish another little project - the IMSAI 8080 replica
In January 2020 I again tweeted about the VT132 because I'd started to play around with it once more.
I'd added most of the authentic VT100 features I could think of, and decided that since the ESP32 has lots of UARTS and WiFi, that I would include a Telnet over WiFi, AT (Hayes) style modem on a second UART. I'd already developed the modem code for the IMSAI8080 replica, so it was easy to integrate it into the VT132.
This is where the fun/trouble began...
By April 2020 I was able to start posting videos to YouTube showcasing the features of the VT132.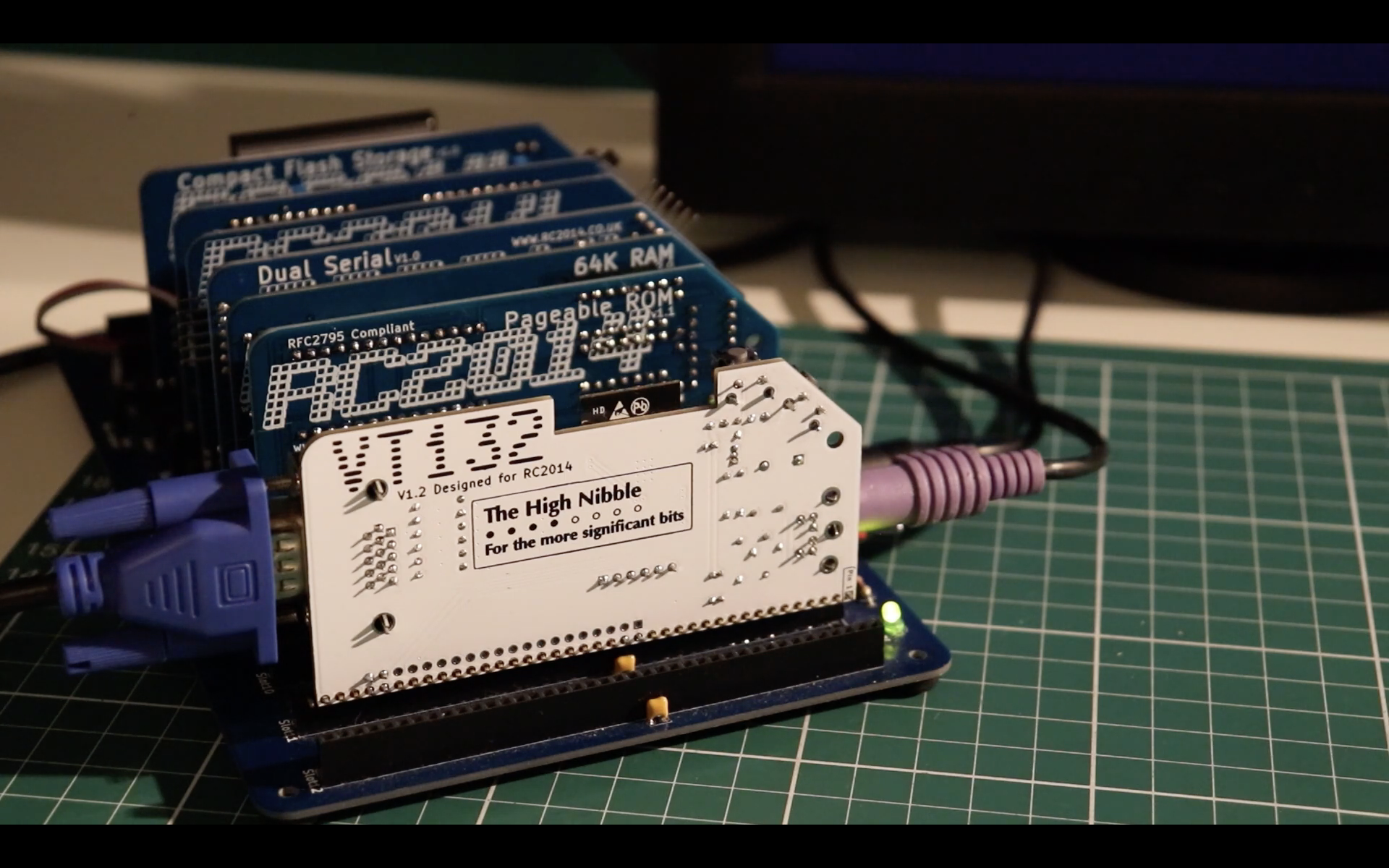 In June & July 2020 I conducted a closed Beta program with some fantastic people from the Retro-computer community. Their contribution to improving the VT132 and accelerating the development, ready for production has been invaluable.
In July 2020 the VT132 began shipping to the patiently waiting early-adopters.
Features
VT100 Terminal
The VT100 Terminal:
Full details of configuring the terminal via the Set-up screens is covered in the VT100 Operator Information Manual
Telnet/WiFi AT (Hayes) Modem
The Telnet/WiFi AT (Hayes) Modem:
A full list of the 'AT' command set implemented and details of all the 'S' registers and their use is covered in the 'AT' (Hayes) Serial Modem Operation Manual
Over-the-Air (OTA) Firmware Updates
The process for OTA Updates is covered in the OTA Firmware Update Guide
Availability
The VT132 is currently available (since July 2020) and has a price of USD$50. In addition to this you must pay for shipping and any transaction fees. Payment is via PayPal.
To Order
I am accepting orders via email. If you send email to info@thehighnibble.com with your shipping name & address, I will respond to you with a PayPal invoice with the total price including shipping and transaction fees.
TIP
Please only pay against the PayPal invoice when I send it to you. Do not try to pay directly to me via PayPal as this will only delay your order.
Specifications
Dimensions (built)
Designed for RC2014
Conforms to standard RC2014 card dimensions
Weight (built)
0.1 lbs
0.045 kg
Power
5VDC @ 500 mA (max., < 100mA typical) - Powered from RC2014 Bus or via FTDI or Modem connectors (jumper selectable).
Dimensions (boxed/shipped)
7 1/2" x 5.5" x 2"
190mm x 140mm x 50mm
(width x height x depth)
Weight (boxed/shipped)
less than 0.44 lbs
less than 0.2 kg